SHORT OVERVIEW
TCB supports twenty-seven years experience, from 1987.
The start is, with the assembled the first clone computer. IBM compatible. Then follows the design and development of software, and even today, with network solutions and surveillance systems.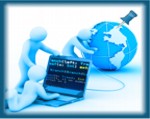 OUR SERVICES
TCB is pleased to offer its service to every type of business.
Offered services in the area of technology management. network solutions, software development web based, support, and facilities.
Software development, local and web based platform.

Hardware implementation, network solutions.
Warehouse automation, web mobile (tablets), barcode scanner.
Security, Professional surveillance systems. IP and HD-SDI video stream.
FTP TCBMIA client
FTP HD-SDI client
COMPANY NEWS
November 23, 2014.
Available the new version 2.0 of

TCBaccess

(web-based), access control, the air, ocean and ground freight handling.
associated company: www.tcbmia.com